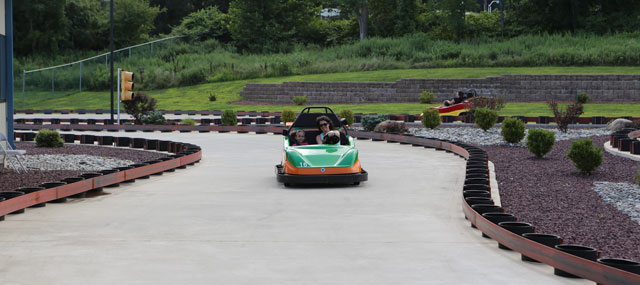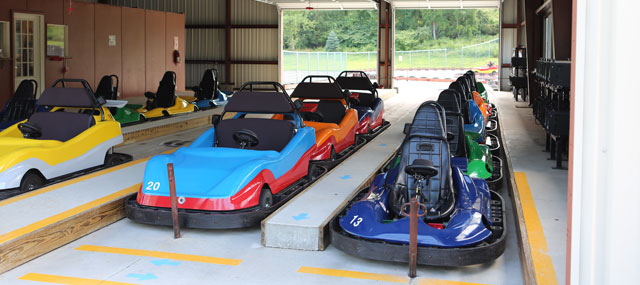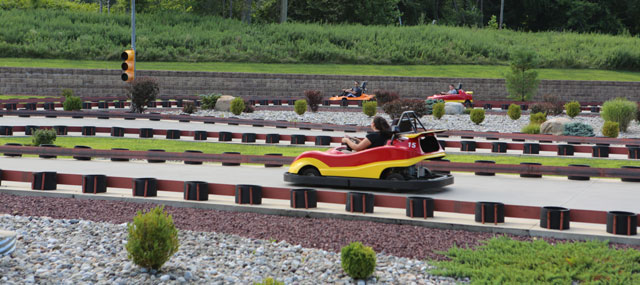 Open all year, weather permitting. Winter hours will vary.
Hours
Monday : Closed
Tuesday – Sunday 12:00PM – 7:30PM
* Please call as hours may change
Rockland county's only outdoor go-kart track featuring high-powered battery-operated karts. Both single and double seaters are available.
Driver Must be 54″ and 10 years old to drive a single kart. Double kart driver must be at least 18 years old to go with a child passenger. Passenger must be at least 36″ tall. 2 adults cannot ride together in the double kart.
The maximum speed is 20 mph.
Price Per Race
(Approximately 4 Laps)
Single Go-Kart: $10
Double Go Kart: $15
Coupon Books
(6 Coupons per Book)
Single Go-Kart: $54
Double Go Kart: $84
TAPPAN GO KART TRACK RULES AND REGULATIONS
GO KARTS is a rigorous physical activity involving a degree of risk and has the following rules and regulations designed for your safety and enjoyment.
GUESTS RIDE AT THEIR OWN RISK.
Guests with a history of health conditions including, but not limited to the following, should refrain from participating in this attraction: back, neck, spinal injuries, a history of seizures and blackouts, heart conditions, pregnancy, or are on any medications/substances which preclude you from operating heavy equipment or vehicle, alter your perception, or slow your reaction time.
Guests must be able to understand and follow all instructions of track attendants and park management. DIRECTIONAL SIGNAGE IS AVAILABLE FOR GUESTS THAT REQUIRE ADDITIONAL ASSISTANCE.
Please remain seated in your car with your seat belt/safety harness on at all times until instructed by track attendants to exit. DO NOT LEAVE YOUR VEHICLE OR UNFASTEN YOUR SAFETY HARNESS AT ANY TIME DURING THE RACE OR IN THE PIT AREA UNTIL INSTRUCTED.
Drivers must keep both hands on the steering wheel. They may not operate portable devices including, but not limited to, cell phones, iPod/music devices, or cameras while driving.
NO LOOSE ARTICLES OF CLOTHING. ALL PERSONAL POSSESSIONS MUST BE SECURED. NO HATS OR SCARVES ALLOWED.
Recommended footwear is a shoe that completely covers the foot: open-toed or open-heeled shoes are not recommended and could result in injury in the event of a collision.
NO CONTACT IS ALLOWED! Incidental contact may result in halting the race and issuing a warning to all cars initiating contact. Additional incidents of contact, aggressive/intentional contact, or a driver that track attendants deem cannot adequately control their vehicle will be prohibited from driving a go-kart.