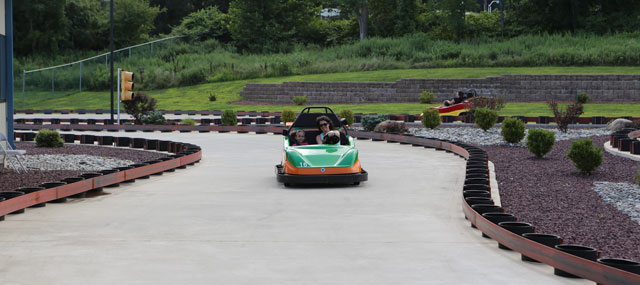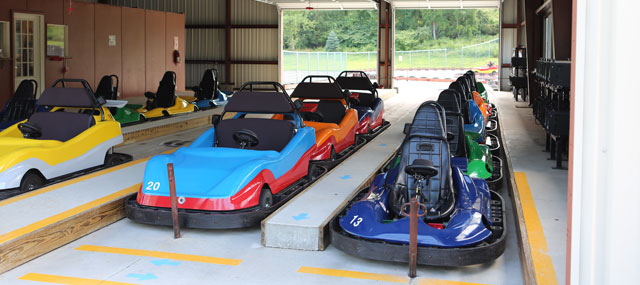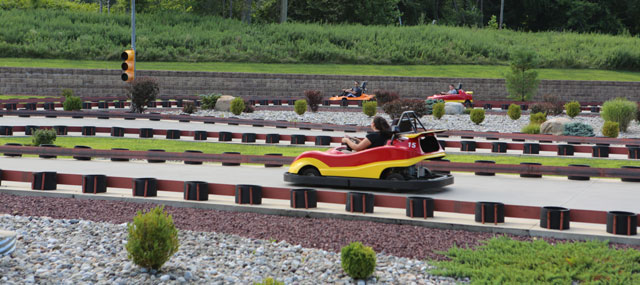 If you feel the need for speed, try your hand at the wheel of Rockland County's only outdoor go-kart track, featuring high-powered battery-operated karts. Feel the wind on your face as our go-karts can reach speeds up to 20 mph. Located in Tappan, New York, Tappan Golf Center offers outdoor go-kart racing all year long, providing you with tons of fun for every season. Before you race, learn more about our track rules and other important information.
Track Hours
Your race awaits you at our go-kart track. Guests can test how fast they fly through the track Tuesday-Sunday from 12:00 PM to 7:00 PM. The go-kart attraction is closed on Mondays, and hours may vary during the winter. Guests should consider calling and inquiring about our current hours of operation before they arrive.
Price Per Race
Races last four laps through our quirky go-kart track. For a single car, races cost $10, and for a double, races cost $15. As part of our many promotions, we offer coupon books to provide frequent racers with discounted prices. Each coupon book is good for six races; a single go-kart coupon book costs $54 and a double is $84.
Go-Kart Features
When looking for go-karts near Tappan, NY, you will find Tappan Golf Center offers an enjoyable, yet safe, attraction. Guests will find our go-kart racing delivers the following features:
Single and Double Seated Go-Karts
The go-kart attraction at Tappan Golf Center is the perfect ride for all members of the family. A driver must be at least 54 in. tall and 10 years old to operate a single kart. Double-kart drivers must be at least 18 years old and their passenger has to be at least 36 in. tall. Two adults are not permitted to ride together in a double kart.
Safety Features
While providing a fun experience for our guests is our main goal, our top priority is always safety. Each kart comes equipped with the necessary safety features. Before each race, a team member will ensure all riders are safely secured into their kart with the provided restraints. We work diligently to adhere to current attraction ride standards, as well.
Track Rules and Regulations
As hard as we work to promote a secure environment, guests must realize go-karts are a rigorous physical activity involving some risk. Therefore, we enforce the following rules and regulations to maintain the safety of every rider:
Guests ride at their own risk and should ensure they are physically, mentally, and emotionally capable of the activity.
Guests with a history of health conditions including, but not limited to the following, should refrain from participating in this attraction:

Back, neck, and spinal injuries
A history of seizures and blackouts
Heart conditions
Pregnancy
Currently taking any medications/substances that preclude them from operating heavy equipment or vehicles, alter perception, or slow reaction time

To ride, guests must understand and follow all instructions of track attendants and park management. Directional signage is available for guests that require additional assistance.
Guests are to remain seated in their go-kart with their seat belts/safety harnesses on at all times until instructed by track attendants to exit.

Under no circumstances are riders allowed to leave their car or unfasten their safety harness at any point while the go-kart is in operation.

Both hands must remain on the steering wheel at all times.
No portable devices are allowed to be operated during the race, including cell phones, iPod/music devices, or cameras.
Loose clothing, such as hats or scarves, must be removed before the race.
Recommended footwear is shoes that completely cover the foot.
Open-toed or open-heeled shoes are not recommended as they could result in injury if a collision occurs.
Absolutely no contact is allowed. Should incidental contact be made, the race may be halted to issue a warning to all drivers involved.

Additional incidents of contact, aggressive/intentional contact, or a driver that track attendants deem cannot adequately control their vehicle will be prohibited from driving a go-kart.
On Your Mark. Get Set. Go!
See who the best driver is as you race around the go-kart track at Tappan Golf Center in Tappan, NY. Cars are extremely safe and the necessary rules and regulations have been put in place for additional safety. Thinking about racing around the track for your next party or event? Contact us or visit Tappan Golf Center today.