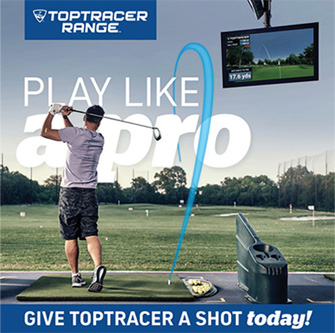 NOVOGOLF golf club in Tappan, NY unveiled its partnership with innovative ball-tracing technology company Toptracer. The most successful breakthrough in golf technologies, Toptracer is used on PGA TOUR and European TOUR broadcasts providing golfers with interactive shot data including ball flight, ball speed and more.
Tailored to driving ranges, Toptracer Range enables golfers to experience the game with the same insights to improve their game and make practice fun. Guests at NOVOGOLF's location in Tappan, NY will be able to replicate the TOUR Range experience by getting real-time views and live data of their shots with the Toptracer Range Technology.
Toptracer Range works with range owners to revolutionize the "range experience" through visual record of ball flight and actionable data that makes practicing more fun and informative
Toptracer Range also features games and modes suited for all ages and skill levels, promoting a sense of community that brings people together in meaningful ways
Players can compete in friendly competitions such as "Closest to the Pin" or virtually tee it up at some of the world's greatest golf courses like Pebble Beach or St. Andrews
Toptracer Range enables golfers to be connected on a global platform through the Toptracer Community app, where users can access their shot data, scores and ranking on the Toptracer Network.