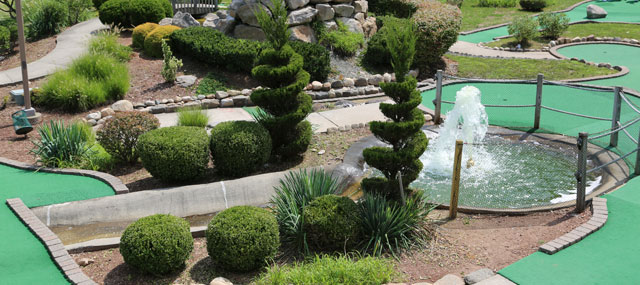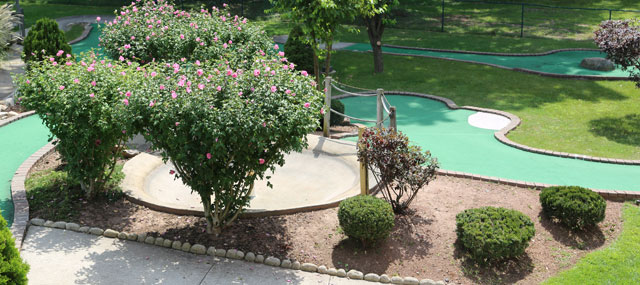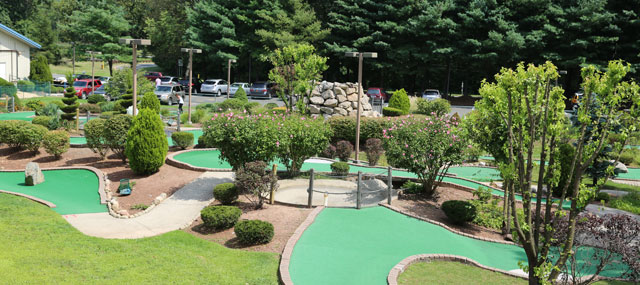 There are plenty of fun activities to partake in at Tappan Golf Center, and one that the entire family can enjoy is a round on our miniature golf course. Located in Tappan, New York, we are proud to be home to one of Northern NJ and NY's most extensive and award-winning miniature golf layouts. The challenging, 18-hole miniature golf course features a picturesque landscape with multiple elevations, water hazards, blind layouts, and several turns and twists that will keep you coming back to try and master the course. Learn more about Tappan mini golf and what you need to know before playing a round.
Miniature Golf Course Hours
Guests are welcome to test their mini-golf game at our course any day of the week between 9 a.m. and 9 p.m. We try to keep our miniature golf course open all year round, depending on the weather. Guests should be advised that hours may vary during winter and times of inclement weather. We recommend you call ahead to ask about our current hours of operation and if they have been affected due to weather.
Pricing
We encourage everyone to come out and play a round of 18 at our premier mini golf layout. Our pricing varies by age, as follows:
Adults (over 10 years old): $9.00
Children (10 years and under): $8.00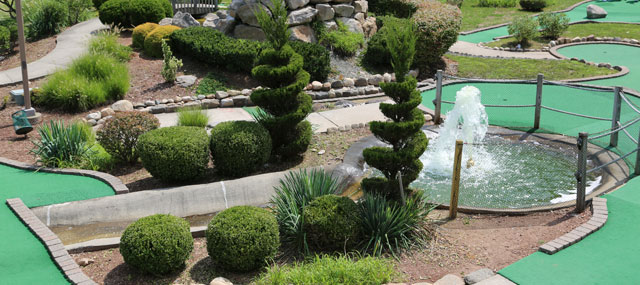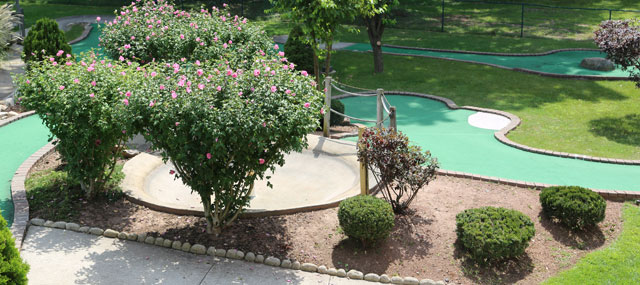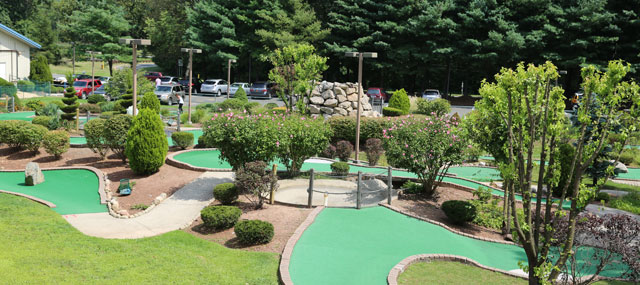 General Information
One of the best parts of mini golf is, unlike traditional golf, all you need to do is arrive with a winning attitude. All equipment necessary will be provided to you by us. Simply select your golf ball color, along with a putter that fits you, and you're ready to play. A scorecard will also be provided to you to help you monitor your strokes and final score.
How the Game Is Played
At our mini golf course, you will find 18 challenging holes that are numbered. Players will make their way through the course, attempting to get their ball into the hole in as few strokes as possible. Players must complete each hole in number order without skipping any hole.
Counting Your Strokes
Just as in traditional golf, the object of mini golf is to complete all 18 holes with the lowest score you can. Each time your putter makes contact with the golf ball, it counts as a stroke. Accidental contact should not count as a stroke. Should this incident occur, simply place your ball in its original spot before the accidental contact was made. After completing a hole, write the number of strokes it took on your scorecard. At the end of the round, tally your total strokes to get your final score. The player with the fewest strokes at the end of the round wins.
Other Things to Keep in Mind
Although it is meant as a fun activity, there is still proper etiquette when it comes to miniature golf. We ask all players to be considerate of others and the course so everyone can enjoy the game in safety and comfort. Other best practices for mini golf include:
Do not start playing on any fairway tee until the players ahead have finished with that hole.
Never walk on the fairway playing surface except while putting.
Do not cut in front of other players, even if they're going slow. Ask to play through if you must.
Take care of equipment and never bang clubs on anything.
Family Fun Awaits You at Tappan Golf Center
Those in Tappan, NY, looking for an engaging family-friendly activity should come to Tappan Golf Center and test their short game on our award-winning miniature golf course. Contact us today to learn more about the Tappan mini golf course, as well as promotions and other attractions we offer, some of which are great for hosting parties and events.